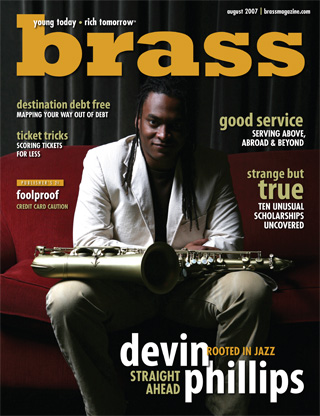 Devin lands the cover story for the August issue of Brass Magazine!

Aware of Devin's growing reputation as a widely applauded jazz saxophonist, Brass Magazine — a nationally distributed publication about aspiring, young adults and finance — interviewed Devin in late spring. Three months later, Devin emerged as the August cover story for the popular magazine.

David Kennedy, co-founder of Wieden+Kennedy, and an avid supporter of Devin's music, acted as Guest Art Director. Ace photographer Martin Thiel was brought in for an extensive photo shoot at the historic Crystal Ballroom in downtown Portland. Include the cool writing and production staff of Brass Magazine and you'll see the cover story is well worth a look! It's all up on the Brass Magazine website.

Brass Magazine, with their motto "young today, rich tomorrow," is based in Corvallis, Oregon. With both a young adult and an acclaimed student edition, it's distributed in print primarily through credit unions to over 450,000 readers nationwide. Online readers only add to that number.