The Oregonian A & E
Sound Check: Notes from the Northwest Music Scene
Nov. 16, 2007
Ambassador With a Horn
Lynn Darroch


Devin Phillips & New Orleans Straight Ahead leave for a tour of West African countries as part of the Jazz Ambassadors program sponsored by the U.S. State Department….


Phillips, who grew up surrounded by jazz history, is about to join Duke Ellington, Louis Armstrong, Dizzy Gillespie, who have represented America in this program of cultural diplomacy. Phillips considers it his greatest honor…"this music is good, and we're trying to expose people to something truly decent from America. So if the music can speak for our country, and we can have cultural exchange, not over oil but over music, that's the most patriotic feeling I'll have in my life." On the bandstand they're full of excitement and drama. Phillips blows feathery melody lines on tenor saxophone while the rhythm section swings along evenly until the agile players leap into a montuno vamp….it's obvious these young lions are listening as well as blowing.

Brass Magazine
Devin Phillips
Cover Story, August 2007
JazzWeek
Album Chart
July 30, 2007

Making his mark on the radio scene, Devin's CD Wade in the Water climbs to number 20 on the jazz chart. A big nod to this self-released album!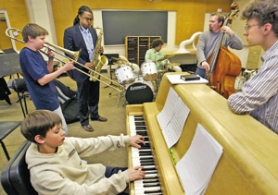 Teaching at Fernwood Middle School
Photo: L.E. Baskow / Portland Tribune
Portland Tribune
Portland's Jazz Import Soon May Be Country's Biggest Export
Eric Bartels
May 25, 2007

"With his dazzling skills and movie-star charisma, it seems certain Devin Phillips will be lured away from Portland at some point. This week [his jazz quartet New Orleans Straight Ahead] cracked the top 50 on the JazzWeek album chart with Wade in the Water …and also has secured a spot on the State Department's Rhythm Road: American Music Abroad program and will travel to gigs at New York's Lincoln Center and the Kennedy Center in Washington, D.C….and six weeks in a far-off land yet to be determined. What Devin does truly well is take music that a lot of people perceive as complex and show you can simplify it and make it work."

Read the full story at The Portland Tribune.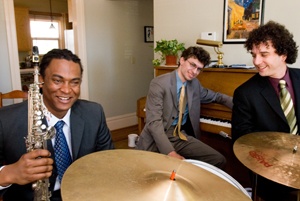 Devin Phillips, Andrew Oliver, Mark DiFlorio
Photo: The Skanner
The Skanner
Jazz Band Hits High Note
Kelly Moyer
May 10, 2007

"After Hurricane Katrina, the 25-year-old sax player found himself thousands of miles from Louisiana in the middle of the Pacific Northwest… And now Phillips, along with the other three members of his band, Devin Phillips and New Orleans Straight Ahead, is putting Portland back on the jazz map [with] the Rhythm Road: American Tour Abroad. They'll play venues in West Africa (they hope) and in Lincoln Center in New York. They're a quartet, of course, but more than that, the group brings a fresh sound to traditional jazz music without losing the roots that make jazz such an original American art form."

Read the full story at The Skanner.
The Oregonian
A&E Nightcrawler
May 25, 2007

"The Devin Phillips Band: The story's been in the air for a few years now: Katrina evacuee comes to Portland with his bags packed full of talent and ambition. With a lot of hard work, he becomes a staple in the funk and jazz scene, with regular gigs all over town."
JazzNotes
KMHD-Jazz Radio: Local Band Wins Award
Doug Sweet
May, 2007

"The prestigious award, membership in Rhythm Road: American Music Abroad was the result of a competitive audition. Congratulations to Devin Phillips & New Orleans Straight Ahead!"
Catchculture.com
Wade in the Water (CD Review)
Tali Madden
April 25, 2007

"At just 25 years old, Devin Phillips is gifted with a near-perfect combination of technical proficiency and deep soul, and has assimilated what is perhaps the most genuine legacy jazz can offer: New Orleans heritage, schooling, and experience… Wade in the Water is part exorcism of Katrina demons, part tribute to exuberant blowing, and totally gratifying."
Portland Jazz Festival
Bill Royston, Promoter
March 28, 2007

"Without hesitation, Devin Phillips is one of the most important young jazz artists that I have encountered in many years. It's remarkable that Devin has developed his own distinctive sound on tenor sax at such a young age."
KMHD 89.1 Jazz Radio
February 20, 2007
Mardi Gras Special

Playing the music of New Orleans and Mardi Gras on this 2-hour special, Devin performed, as well as explained the music and customs of Mardi Gras.
Oregon Live
February 18, 2007
Luciana Lopez

In this online, audio interview with the Arts Editor of The Oregonian, Devin discusses jazz, his background and his feelings playing with Branford Marsalis during Branford's last number at his Friday night PJF concert.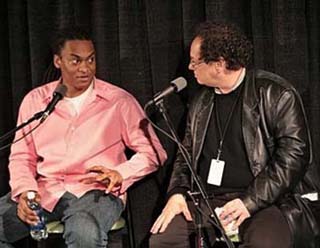 Devin interviewed by Howard Mandel.
Dialogues with Howard Mandel
2007 Portland Jazz Festival/KMHD-FM
February 15, 2007

Solo interview conducted by Howard Mandel, president of Jazz Journalists Association, in a large audience setting and recorded for broadcast by KMHD 89.1 Jazz Radio.
JazzScene Magazine
(Jazz Society of Oregon) CD Review: Wade in the Water
George Fendel
February 2007

"Phillips makes a bold statement as saxophonist to be reckoned with. He begins with a page straight from Coltrane… he keeps within the hard bop mold, playing searing solos and showing his prowess on the horn, until he takes a turn towards the traditional, with a trip to the Big Easy."
Check out more press from 2005-2006 in the Press Archive.